Business & Organization Accounts
Premier Business Accounts
ECU – A Division of WFCU Credit Union's suite of Prem1er Business Accounts puts business members in charge, giving them the ability to choose the account that is right for their unique business needs.
From
Prem1er Business Pay-As-You-Go
to
Prem1er Business Plus
, our range of business accounts provide tailored solutions based on business size, transactions and goals.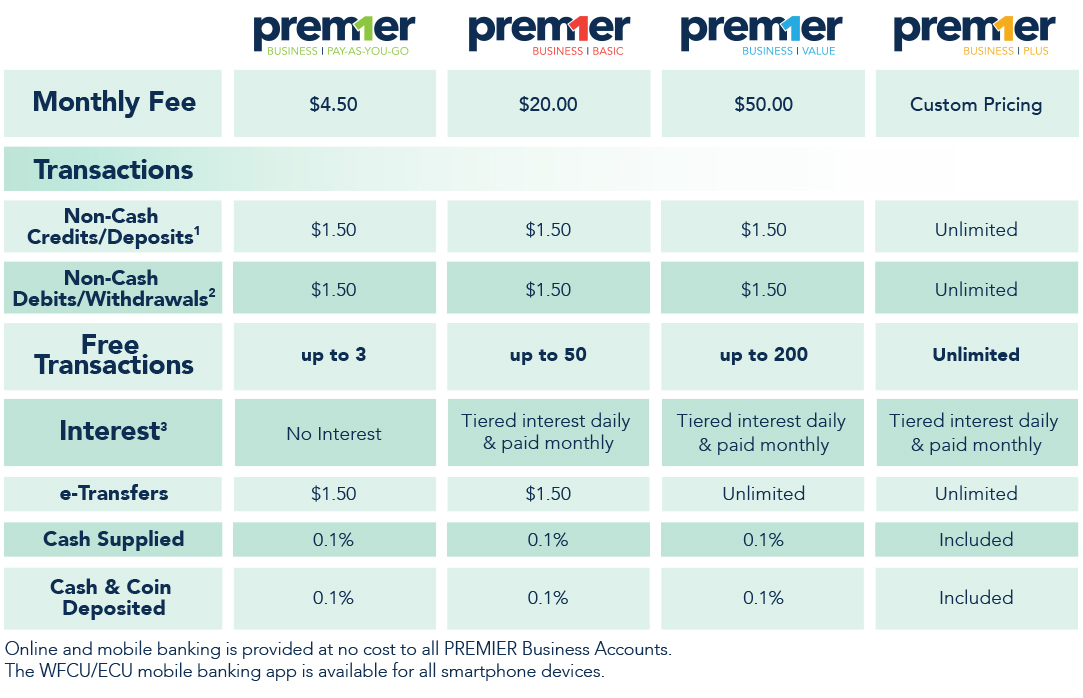 To learn more about all our Prem1er Business Accounts or to discuss which business account is best suited for your needs, please stop by one of our convenient branch locations, or reach us by email at info@myecu.ca.

1Deposits include in branch deposits, ATM deposits, electronic deposits including preauthorized credits, e-transfer received, deposit anywhere cheque deposit and corporate deposit capture.
2Withdrawals include in branch withdrawals, ATM withdrawals, electronic withdrawals including preauthorized debits, point of sale, bill payments & cheques.
3Select PREM1ER accounts can earn interest, with interest calculated on the minimum daily balance and paid monthly based on the balance of the following tiers: $0.01 - $74,999 I $75,000 - $149,999 I $150,000 - $299,999 I $300,000+


---

Overdraft Protection
Available in amounts from $1,000 up to $25,000, the Overdraft Protection is an authorized overdraft attached to a Premier Business Banking account.
US Daily Interest Chequing
A daily interest savings account with an option for chequing privileges. Businesses can conveniently deposit U.S. cheques or cash directly into the account without converting to Canadian funds. $1.00 per debit. Interest is calculated daily and paid monthly, based on a tiered structured.
U.S. deposits are not included in the deposit insurance coverage provided by the Deposit Insurance Corporation of Ontario.
ALTO Business Savings Account
The ALTO Business Savings Account gives businesses the opportunity to earn higher interest as their balances grow. Interest is calculated on the minimum daily balance and paid monthly based the following tiered structure:
| | |
| --- | --- |
| ALTO Business Savings Tiers | Interest Rate |
| Under $9,999 | 0.15% |
| $10,000 - $74,999 | 0.25% |
| $75,000 - $299,999 | 0.50% |
| $300,000+ | 0.50% |
There is no charge for credits and deposits on this account. There is a fee for debits and withdrawals with this account.
The Community 1 Chequing Account
The Community 1 Chequing Account is a daily interest savings/chequing account available to charities, service clubs, non-profit groups, youth or school groups and other institutions and includes:
All deposits, in-branch withdrawals and electronic debits.
Chequing and optional online or returned cheque images.
All transfers to and from accounts.
Rolled coin accepted at no charge.
Certified cheques and drafts.
Online and automated telephone banking access.
Free night depository.
Access to Community Room at all locations, at no charge.
Free bank confirmations.
In addition, have access to:
U.S. chequing account with option for returned cheque images for a nominal fee.
U.S. coin accepted with exchange. A nominal service charge applies.
The Community 1 Chequing Account includes a low monthly fee of $3.50 which is waived when a minimum monthly balance of $2,500 is maintained.
ECU – A Division of WFCU Credit Union staff are available to meet with your employees and Boards to review the benefits of this program and to support the account as required.
ALTO Community Savings Account
The ALTO Community Savings Account gives organizations the opportunity to earn higher interest as their balances grow. Interest is calculated on the minimum daily balance and paid monthly based the following tiered structure:
| | |
| --- | --- |
| ALTO Community Savings Tiers | Interest Rate |
| Under $9,999 | 0.15% |
| $10,000 - $74,999 | 0.25% |
| $75,000 - $299,999 | 0.50% |
| $300,000+ | 0.50% |
---


*Effective May 1, 2021